9 Things To Learn About Being An Entrepreneur from Davina McCall
Davina McCall. Do we even need a surname? She's a one-off, gracing our living rooms like a trusted friend for over thirty years.
And guess what? She's only the ATOMICON 2024 headliner!
How awesome is that?
(pssst… if you haven't got one yet, you can buy your ATOMICON ticket here!)
Davina is one of Britain's best known celebrity personalities, but over a long and illustrious career, she's also been a highly successful entrepreneur – and there's lots us business owners can learn from her.
As Steven Barlett aptly put it during their recent interview for 'Diary of a CEO', she's 'electric', and her vivacious, energetic, but beautifully sensitive persona lights up our lives. Tackling health, fitness, hair, beauty, clothes – even our love lives and families – she nails it every time.
And at 55, she describes herself as the happiest and most content she's ever been.
So, what's her secret to success? We've analysed some of the ways she's built such a phenomenal personal brand and successful business portfolio, so we're sharing them here with you.
But we're pretty sure there will be more juicy stories and insights when she takes to our ATOMICON stage in June next year…
As business owners, what can we learn from Davina's success?
Let's delve a little deeper into what's made Davina who she is…
She freely admits to a challenging childhood that left her with a horrible fear of abandonment.
But on the flip side, she developed a deep sensitivity that allowed her to read moods and capture attention. She became a 'people pleaser' and actor, but through those dark times she developed a remarkable resilience that's now her underlying superpower.
And as a business owner, it takes lots of resilience to keep going and turn the bad into good.
Let's take a look at 9 lessons we can learn from Davina's journey (and get ourselves just a little bit hyped up for her keynote speech and plenty of other gems).
1. It's only a no until it's a yes
How many times have you been told 'no' in your business? I bet it's plenty…
Having the tenacity to keep going after you're told 'no' is one of the main reasons why Davina is such a maverick. She doesn't give up until she gets the green light!
It took plenty of rejection before she got her big break at MTV. Three years, to be exact. For three whole years, Davina bombarded a contact she'd met at MTV with her presenting demo tapes until one day, he said yes and passed the tapes onto someone else in the company.
Lo and behold, she finally landed her dream job at MTV. To put things in context, that was a VERY cool job during the good old days of Cool Britannia. Her determination (and yes, that awesome resilience) paid off. The rest, as they say, is history.
So, when you're next told 'no' – channel your inner Davina and keep going until you finally get that 'yes'!
2. Don't be afraid to pitch your ideas
How many good ideas never see the light of day because you tell yourself they're not good enough? Or you're scared of looking silly?
Davina isn't afraid to pitch her ideas and create opportunities for herself.
As the face of TV's original fly-on-the-wall social experiment, 'Big Brother', she knows her audience and understands more than most what makes a great reality show.
So, when she recently had an idea for a British version of a 'middle-aged Love Island', she wasn't afraid to put herself out there and go for it. 'My Mum, Your Dad' has been a huge hit, and it's a great example of how Davina followed her instincts and pitched with passion.
In your industry, if you know your audience, learn from your experience, follow your intuition and you're bound to spot opportunities too…
Next time a great idea comes up, are you going to go all in like Davina?
3. Be authentically you at all times
Have you ever watched a Davina exercise video? They're so much damn fun.
She's ridiculously fit, of course, and that could leave you feeling like an inadequate couch potato, but she always has you laughing and motivated in no time.
With her characteristic warmth and humour, she's unafraid to poke fun at herself and so, as her customer, you're drawn in and thoroughly engaged in the class. It's like exercising with a mate!
Quite simply, Davina is so authentically herself that there's no one else like her.
So, don't spend time tying yourself in knots about how you come across to your target audience. Just be passionate about what you do, be yourself and you'll make a strong, memorable impact.
4. Sometimes you need to look inside
Can any of us truly say that our life has been perfect so far?
We all have a story that shapes who we are, full of ups and downs…
Davina had a particularly unsettling time growing up and it led to complex vulnerabilities. But, instead of letting them pull her under, she's successfully turned them around, and they've become some of her greatest strengths.
She's characteristically honest about her misuse of drugs in her teens and early twenties and her very determined recovery. Through her highs and lows, she's reflected and learned, and now she uses that experience to fuel her fire to help others.
What strength and inspiration can you take from your own story?
5.Own your goals
Do you ever have days where you look in the mirror and think, "Why the heck did I start this business and what is it that I actually want to achieve?".
Goals are the foundation of any successful entrepreneurial venture. Going back to your original 'why' and revisiting where you want to end up can shine a spotlight on your current situation, and help you navigate choppy waters.
Surprise, surprise, 'Own Your Goals' is the name of Davina's online fitness platform. It says a lot about her approach to health, fitness, life and happiness, but also her approach to business.
Set strong goals, put systems and support in place and then smash them! If you need our help, check out https://atomic.site/becomeatomic/, we're here for you (no squats or sweat required).
6. Show enthusiasm
Davina's business portfolio is diverse, but it's chock-full of ventures that showcase her zest for life and other people. Does yours?
After all, you're in business to provide something that someone else needs, and a happy, valued customer is a loyal customer who'll shout about you from the rooftops to other people…well in an ideal world anyway!
From energetic interviews with reality contestants, to empathising with 50-somethings who want to find love, and even sensitively helping long-lost family members reconnect, Davina's true interest in people shines through.
The lesson? Follow your passion and let your enthusiasm show. Whatever you do, other people will love you for it.
7. Embrace a niche topic
Who hasn't heard of Davina's work in raising awareness about the menopause? Female or otherwise, if you haven't, have you been under a rock?
By being unafraid and unflinchingly honest, she stepped outside her comfort zone to champion struggling women everywhere. Her brilliant documentary, 'Davina McCall: Sex, Myths and the Menopause' (still available on All 4 if you haven't seen it), got everyone talking and has rocket-fuelled change.
Thanks to her, menopause is no longer a taboo subject, and women have access to better care and when they need it, they aren't afraid to get the help they need.
Guess what? She was there first, because she genuinely cared, and so we still associate her with this important work that's now being carried on by others.
Could you be the first to niche down and be a pioneer in your industry?
8. Phrases and straplines
Don't you just love a clever catchphrase or strapline?
Humour, energy and personality are infectious. A memorable phrase that reflects your brand, evokes emotion. A good one will leave your customers in no doubt where they heard it, and who from.
Davina is the queen of catchphrases and funny asides. 20 years later, her Big Brother "This is Davina, we are live, please do not swear" catchphrase still resonates…even if you're too young to have been there at the time.
Think about your own brand. Could you coin a catchy phrase or strapline to give it personality? If you can, and it catches on, then you could be onto something special.
9. Stay flexible to new ideas
You don't need to wear lycra and stretch out your back for this one!
What we mean is stay curious, open-minded, and interested in other people and new ideas.
Being able to continually learn and adapt are great attributes for business…and in life.
By being open to fresh concepts and exciting collaborations, you'll find that new opportunities will flow naturally.
Take a look at the way Davina has successfully reached lots of different people, about so many different subjects, in all walks of life.
It's amazing when you think about it, isn't it? Her adaptability has only increased the phenomenal impact of her personal brand.
Would you like to hear Davina talk on the Atomicon stage?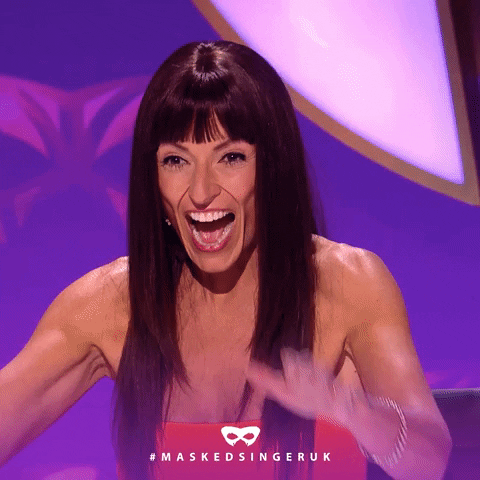 You might have guessed we're huge admirers of Davina – why else would we have pulled out all the stops to have her headline Atomicon?
She's brimming with charisma and experience, navigated life in the public eye, made gutsy decisions, and shown resilience in spades over the course of her long career.
This amazing lady is a consummate entertainer, has earned huge celebrity status AND she's managed to carve out a sustainable career as a highly successful businesswoman.
So, book your tickets now, and join us to hear more from Davina herself at Atomicon!
Once we're live, we'll try not to swear, but this is the one and only Davina, so who knows?